Which tomato variety should you plant?

Tomatoes are the best fruit to have in the garden, and they will be great allies in the kitchen all season long.  Furthermore, tomatoes are often considered as the ultimate sign of a vegetable garden's success. Several different varieties are available, which is why it can sometimes be hard to make a choice.
Below, a few of the most popular varieties you should consider when planning your garden.
Beef Heart
This Italian tomato can reach an impressive weight of 500 to 600 grams.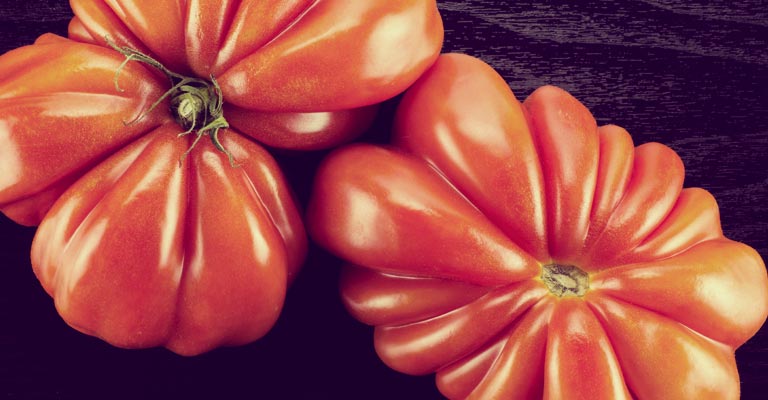 It can be ribbed or smooth. Scented and tasty, Beef Heart tomatoes have few seeds, a thin skin and pink flesh. Perfect in a carpaccio or salad.
Since 2010, new Beef Heart varieties have been offered on the market. Often, they are hybrid tomatoes derived from cross-breeding with other species. Generally, there are few similarities with the original in terms of taste and shape.
Pineapple
This variety comes from South America and Mexico, and it's also known as a cousin of Beef Heart tomatoes.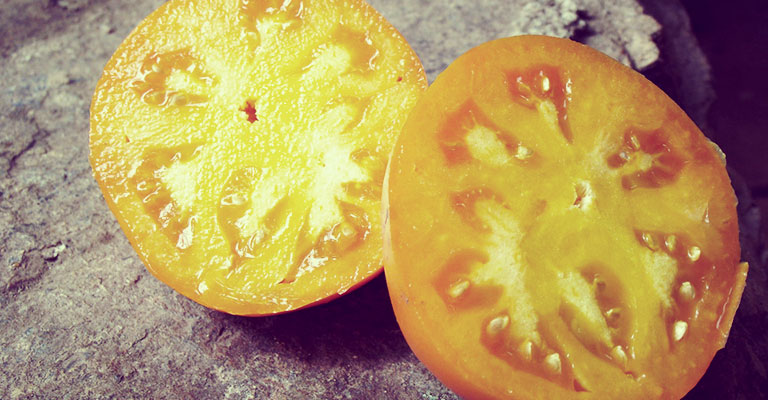 © lepotagerdesante.com
Its name comes from the fact that when it's sliced, it looks like a pineapple. Its colour varies from red to sunset yellow and its skin is often bumpy. This variety is famous for its weight, which ranges from 250 to 400 grams. Some can even reach up to one kilo!
This delicious tomato is scented and juicy, and its flavour is delicate and sweet. It can be served raw with a trickle of light, unseasoned vinaigrette to enjoy its taste to the fullest.
Rose de Berne
This variety comes from Switzerland. It can easily be identified by its pinky red colour.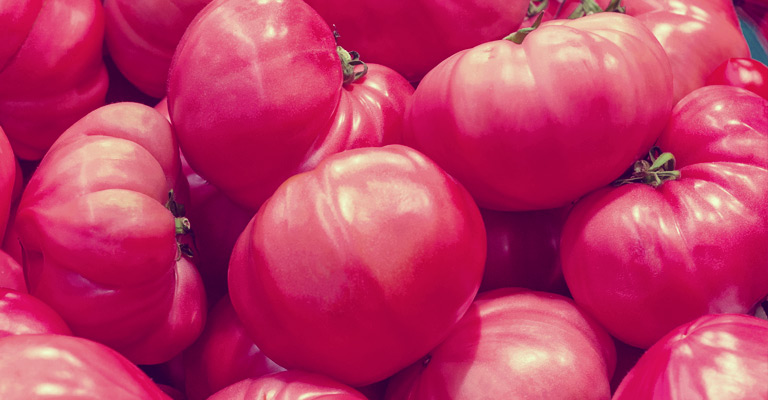 It is renowned for its sweet, melty, acidless taste. This fruit has a firm flesh and its weight varies from 180 grams to more than 200.
Perfect in a salad, coulis or preserves. One of the benefits of growing this variety is it's extremely resistant to diseases.
Black Krim
A South America native, its name comes from its dark brown, almost black colour.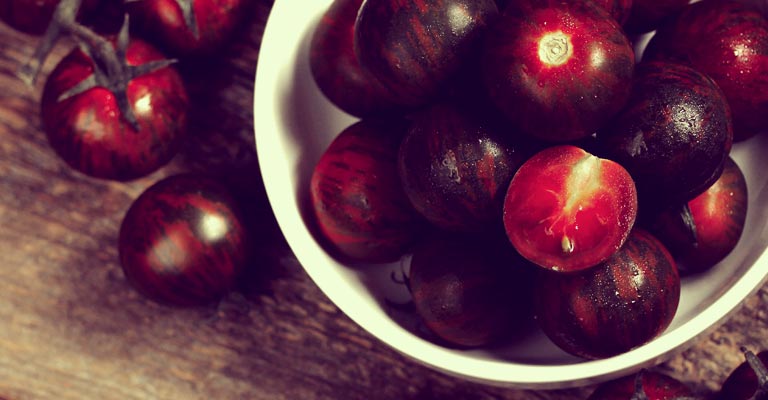 With a perfectly round shape and smooth skin, its fruits weigh between 150 and 500 grams. Its taste is delicate, sweet and acidless. Black Krim can easily withstand drought conditions.
It can be matched with herbs such as basil, parsley, oregano, thyme, sage and chervil. This variety is excellent in a salad or cooked.
Green Zebra
Green Zebra tomatoes come from the United States and can easily be recognized with their green and yellow stripes, round shape and smooth skin.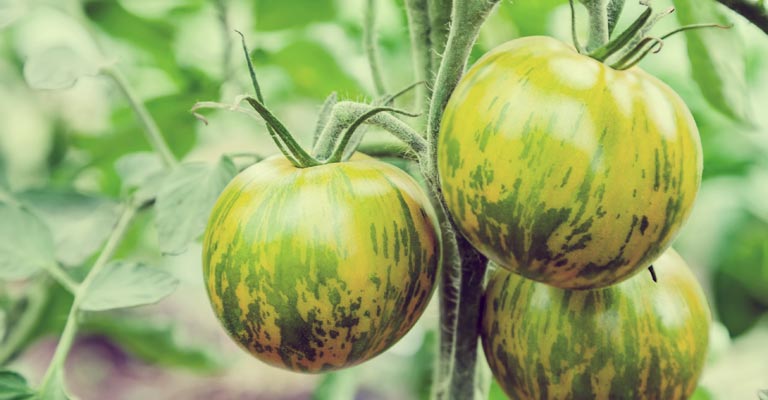 This variety is considered as small, the fruits' weight varying between 80 and 120 grams. This juicy tomato's flavour is intense and lightly acid.
It is resistant to diseases and will become hardier in drought conditions. This variety is perfect in a crudités platter or accompanied by red and yellow tomatoes in a salad. It's also a great choice to make preserves.
Gardener's Delight
England-born, Gardener's Delight is one of the best cherry tomato varieties. Its red round fruits weigh between 20 and 30 grams, and their flesh is firm.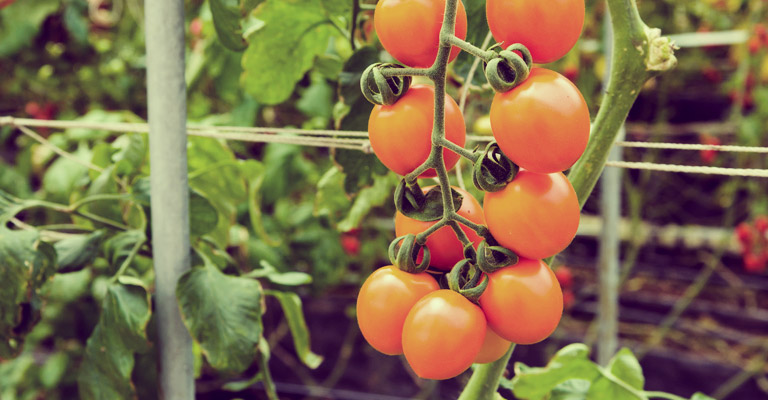 It grows in clusters of 6 to 8 fruits. With its sweet and acid juice, this variety is one of the most flavourful.
This cherry tomato is perfect in a salad or as an appetizer.
Watering your tomatoes
This should be taken seriously. There are several watering techniques, but the easiest one is to simply water your tomatoes manually, with a watering can. Water at the base of the plant and avoid getting the leaves wet. With a hose, use a moderate stream so the water slowly infiltrates the soil. You need the water to go deep.
It is important to water in the morning or evening, and never in direct sunlight, as this would be a waste of water and you would risk burning the foliage. Water one to two times a week. When temperatures are milder, your plants can be watered every other week. Know that their needs will change over the course of the season, so be vigilant.
Interesting facts
Originally, tomatoes come from Peru; back then, they were called "Peruvian apples".
Today, wild tomatoes can still be found in Peru, the West Indies and Texas.
Their weight increases as they ripen, even after harvest.
5% of their weight is water.
A tomato plant has a significant root system that can reach over a meter in length.
Green tomatoes will ripen when stored with apples.
The foliage of tomato plants is toxic.
Refrigerating your tomatoes will diminish their quality and flavour.
Tomatoes have strong medicinal properties. Among others, they reduce the risk of cancer, prevent cardiovascular diseases, and lower hypertension.
Tomatoes can be red, yellow, pink, purple, black and even white.